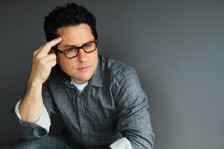 LOS ANGELES — "The first one was so good, he we have to do another," said Jennifer Gilmore at a press conference on the Paramount lot. "Sure, I'd seen one before, in the seventies, but it got stale and boring. It wasn't until J.J. came a few years ago that I actually got excited again." Abrams rebooted Ms. Gilmore in 2009 and his follow up effort has been hotly anticipated ever since the first two-and-a-half-hour epic.
"I'm looking for something I can really sink my teeth into," said Mr. Abrams in a statement to the press, "I want to roll up my sleeves and get my hands dirty."
J.J. Abrams' previous work has received rave reviews in his key demographic. Negative feedback came from the elderly who felt it moved too fast, the climax was confusing and there were too many close up shots on people's faces,
"Just look at what he's been able to accomplish with his wife!" Gilmore said, "That franchise has already spawned three spinoffs." Mr. Abrams has tentatively accepted her position, with a big release planned for next summer. But, with so many dates on his calendar, there's always a chance Mr. Abrams will pull out before he finishes.