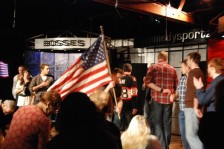 To honor this great country, we're bring back some notable patriots of the past to help celebrate the present. There will be some live hip-hop from Ben Franklin and Thomas Jefferson. One lucky audience member will duel Aaron Burr, and since many great citizens have the day off on Monday, we will party in the lobby for America's birthday.
And since Chicago cancelled fireworks this year. We're going to do something to make up for it.
We're also psyched to have The Hamiltons join us for the show.
Bring your Nerf Maverick, because there will be drinking, Gunball, and dueling after the show.
RSVP to the Facebook event for discount ticket info.